Are you a beginner ukulele player looking for some fun and easy songs to strum along to? Look no further!
In this blog post, we've compiled a list of 33 easy ukulele songs that are perfect for beginners.
From timeless classics like "Stand By Me" and "Somewhere Over the Rainbow" to contemporary hits like "Riptide" and "Ho Hey," this diverse collection has something for everyone.
Whether you're just starting out or looking to expand your repertoire, these songs will help you develop your skills, master basic chords, and have a blast while playing the ukulele. Let's dive in and start making music!
Be sure to have your ukulele in tune. I regularly use this tuner available on Amazon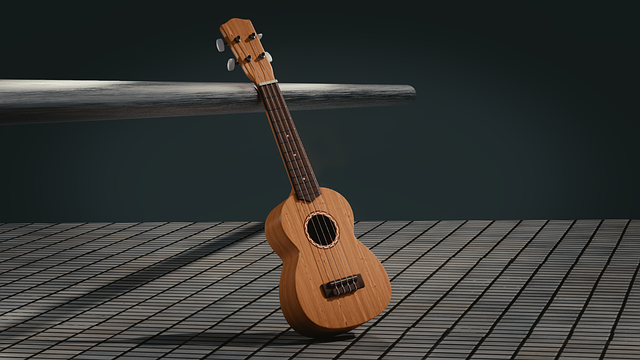 Top 33 Easy Songs On the Ukulele
1. Riptide by Vance Joy
"Riptide" is Vance Joy's hit single from 2013. This upbeat song is said to be a coming-of-age love story.
It has clever lyrics full of metaphors and pop culture references, making it well-liked among critics and fans.
It's also one of the easiest songs to play on a ukulele. It only has four Vance Joy chords: Am, G, C, and F.
You'll only need to play the first three chords in the same order throughout the intro, verse, and chorus. The F chord will then appear later in the song.
Next: Top 10 Ukulele Love Songs
2. Over the Rainbow by Israel "IZ" Kamakawiwoʻole
"Over the Rainbow" is a ballad originally written for the 1939 film The Wizard of Oz. It was sung by actress Judy Garland when she played Dorothy Gale.
Although the song was first released in 1939, Israel "IZ" Kamakawiwoʻole's cover of the song in the 90s made it a lot more popular worldwide.
Unlike the original version with a soft and bittersweet melody, IZ's stripped-down rendition is more upbeat with his signature ukulele.
You can recreate his sweet ukulele sounds by learning to play its simple chords. You will only need to play the chords C, F, G, Em, and Am.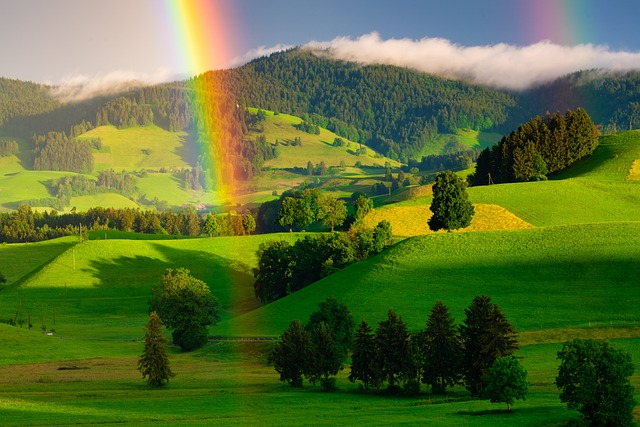 Next: 15 Hawaiian Ukulele Songs
3. I'm Yours by Jason Mraz
Ask any player about the most accessible song to play on the ukulele. They'll likely suggest "I'm Yours" by Jason Mraz. It's a ukulele beginner staple for a good reason.
The chord changes in this song are not too fast, and its pacing is easy for you to follow.
This song also has the most popular combination of four Jason Mraz chords in the ukulele: C, G, Am, and F.
Just play those chords over and over, and you'll be able to play a lot of other ukulele songs that use the same chord pattern.
4. Can't Help Falling In Love by Elvis Presley
One of Elvis Presley's best songs of all time, this tender ballad is about not being able to resist love.
It was originally recorded for his movie, Blue Hawaii, but its longevity made it one of the most iconic romantic ukulele songs.
It's also a popular wedding song played as the bride walks down the aisle.
It has since been covered by many other artists, such as Twenty One Pilots, who sang it with a ukulele.
There's a total of seven chords, but they're not too tricky to play.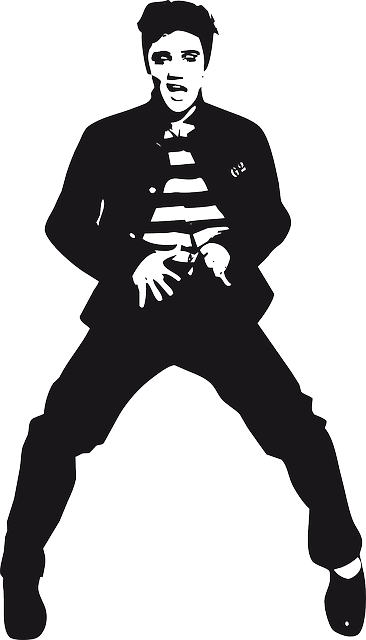 Next: 10 Easy Baritone Ukulele Songs
5. Hey, Soul Sister by Train
"Hey, Soul Sister" is Train's most commercially successful single.
It was from their 2009 comeback album Save Me, San Francisco. This ukulele song was also the best-selling single of 2009.
It has super catchy riffs and melodies that make it easily recognizable even years down the line.
The song only has four chords. To make the song easier to play, you can transpose it down four steps. You can then play it with C, G, Am, F.
If you want to play it as close to the original sound, you can play it untransposed. Although it's not easier to play, you can treat it as your introduction to newer chords.
6. All of Me by John Legend
This is one of John Legend's most popular songs. It was a top-charting song in different countries and was awarded an 8x Platinum RIAA certification. He wrote this love song with Toby Gad after being inspired by his then-girlfriend Chrissy Teigen. They shot the music video just before their wedding in 2013.
The song is mainly piano-driven, but you can easily play it well on a ukulele. You'll only use five chords: Em, C, G, D, and Am.
7. Hakuna Matata by Disney Music
From the animated feature The Lion King, "Hakuna Matata" is the theme song of Timon, Pumbaa, and Simba. The legendary Elton John composed the music, while Tim Rice came up with the lyrics. "Hakuna Matata" is a catchphrase used in the film, which means "no worries" in Swahili.
It's an upbeat and catchy song that's also simple to play on the ukulele. Just play it with the five chords F, C, G, Am, and D. You can play it with the strumming pattern: D-D-U-U-D-U.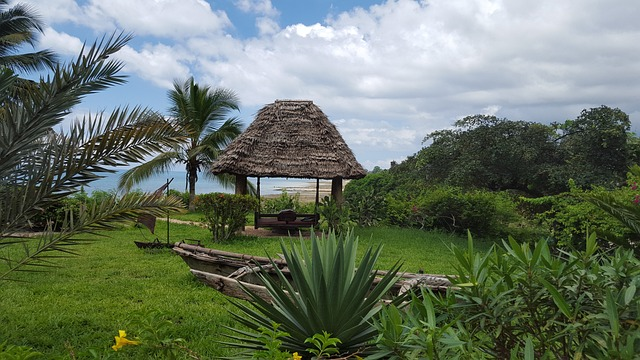 Next: Top 10 Disney Ukulele Songs
8. Count On Me by Bruno Mars
This song is from Bruno Mars' debut album Doo-Wops And Hooligans. It's primarily influenced by reggae, featuring a laid-back groove and tropical vibes. The music style reflects the singer's Hawaiian background.
An acoustic guitar mainly drives the song. This makes it fitting to be played on a ukulele, especially since it is an upbeat, beach-bound tune. Play this song with the six chords C, Em, Am, G, F, and Dm, which are all beginner-friendly.
9. Imagine by John Lennon
John Lennon's "Imagine" is a beautiful ballad about hope. The lyrics evoke a vision of unity and peace in the world. It's a gentle protest song against the Vietnam War at the time of its release. After Lennon released the song in 1971, it has since become a timeless anthem sung worldwide.
A beginner can easily play this song with only six chords: C, Em7, F, Am, D, and G. Don't be intimidated by the number of chords to use since these are all simple to play.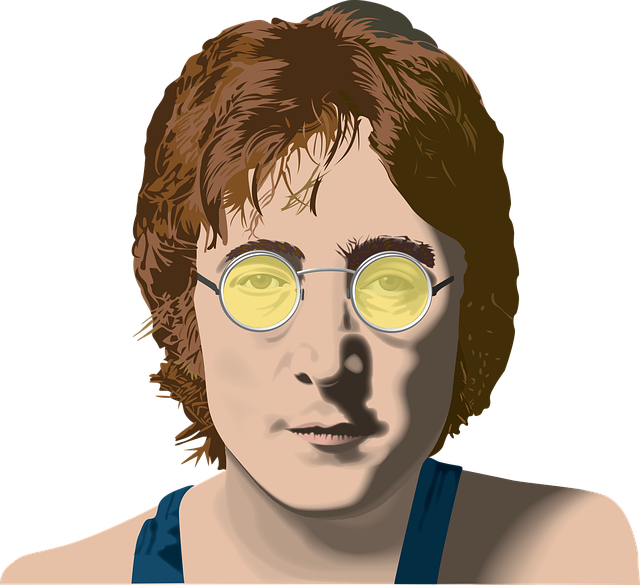 10. You and I by Ingrid Michaelson
The song "You and I" is short, breezy, light-hearted, and supported by nothing more than a ukulele, at least until the last part.
The chords are pretty simple and ideal for beginners. These are C, Am, G, F, and G7. When Ingrid Michaelson performs the song live, she uses the less common variations of the F and Am chords. But feel free to play the song using the variations you know best if you find that tricky.
11. Shake It Off by Taylor Swift
"Shake It Off" is a dance-pop tune that encourages listeners to put aside their small worries. It was written by Taylor Swift and produced by Max Martin and Shellback.
An upbeat song about overcoming negativity, its lyrics talk about how Swift is not worried about what people think of her image. This fun song is surprisingly easy to play on the ukulele. It only has four chords: G, Am, C, and D.
12. Lava by Disney Music
This beautiful ukulele song is from Pixar's short movie of the same name released in 2014. The 7-minute short film tells the story of a lonely volcano named Uku.
Lava is a very simple song to play. The chords are easy, and the strumming is pretty relaxed. There are just three chords, and you should easily recognize them if you've played the ukulele before. The three chords are C, F, and G7.
13. Call Me Maybe by Carly Rae Jepsen
You've likely heard this viral pop hit from 2012. People uploaded countless videos of themselves lip-syncing to the catchy tune. It also inspired many image memes with funny twists in the lyrics.
The song is excellent for beginners to learn because the chords are in the same order throughout the whole song. The chords are G, Em, C, and D. Just try mixing up your strumming patterns to keep it interesting.
14. Marry You by Bruno Mars
This one is from American singer and songwriter Bruno Mars's debut studio album, Doo-Wops & Hooligans (2010). Here, Bruno is so in love with this girl that he doesn't think about marrying her right then and there.
Because of its theme about spontaneous marriage, it has frequently been used as a proposal song. You can play an easy version of the song with the chords F, Bb, and Gm.
15. Sunday Morning by Maroon 5
"Sunday Morning" from Maroon 5's debut album Songs About Jane is an upbeat pop-rock jam. It's about how you can't get a person out of your mind. It's a perfect song that describes how everything else is pointless unless you're with someone who matters the most.
This is an excellent beginner song since you'll only need three chords: F, G and C. It's effortless to play. Add that with a couple of techniques like chunking; then, you'll be left with a beautiful tune that'll make you sound like a pro.
16. Somebody That I Used To Know by Gotye
Gotye recorded "Somebody That I Used to Know," featuring Kimbra, in 2011. The song was a global success, and it became the signature song of both singers. The emotional song is about a relationship that has come to an end. The lyrics talk about the pain of being left behind in the relationship while the other person is caught up in a new life.
You only need three chords to play the entire ukulele song: Dm, C, Bb.
These are not precisely beginner chords, but you can quickly nail them with a few practices. For the strumming pattern, you can use D-D-U once for every chord.
17. House of Gold by Twenty One Pilots
If you want to play songs driven by ukulele, then you'll want to try out "House of Gold" by Twenty One Pilots. This alternative folk song has a memorable melody against stomping drums, which Tyler Joseph dedicated to his mother.
This song is straightforward to play on the ukulele. It only has a little extra chord break, and the strumming is a little fast. Just listen to the song intently while you are playing it. You'll quickly realize that it's easy to go through.
It also might help that Tyler was once a beginner in the ukulele. When he explained his insights on the song in 2013, he told the Rock Sound magazine that he purchased a ukulele without even knowing how to play it. After he learned a few chords, the rest is history.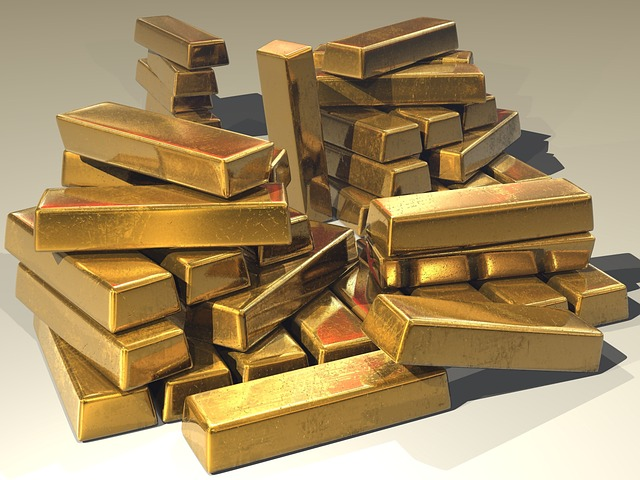 Next: Twenty One Pilots Ukulele Songs
18. Hey There Delilah by Plain White T's
"Hey There Delilah" is a hit love song of Plain White T's released in 2006 as a single for their album All That We Needed. It's about a long-distance relationship where the singer sings directly to his lover Delilah about their future plans. Although a real-life Delilah inspired the song, the singer never had a relationship with her.
You can play the easy version with the five chords C, Em, Am, G, and F. Play it with a slow strumming pattern when you're just starting. "Hey There Delilah" is also a great song to master if you want to learn fingerpicking. Although it won't sound exactly like the original songs, it will still be pretty close.
19. Pumped Up Kicks by Foster The People
Foster The People had a massive hit with "Pumped Up Kicks" from their 2011 album Torches. Despite the bouncy melody, Foster uses this song to mask the dark meaning of the song.
This indie-pop song uses only four chords, and you'll find it easy to sing along with as you play. The chord progression never changes, making it easy for ukulele beginners to keep up with the beat.
None of the chords is difficult, so even if you're new to playing, you can quickly nail this song.
20. When I Come Around by Green Day
Green Day recorded "When I Come Around" for their first major-label album. The song is lead singer Billie Joe Armstrong's account of him missing his girlfriend, Adrienne Nesser. The song was his way of expressing his frustrations with being on the road and not being with her.
The chord progression for this song is G, D, Em, C, which are all really simple chords on the ukulele.
You can get comfortable playing two down strums on each chord.
21. Creep by Radiohead
This iconic song tells the story of a socially awkward guy who follows a woman he's attracted to. Ultimately, he lacks the nerve to speak to the person.
This massively popular Radiohead song is simple to play on a ukulele. The chord progression throughout this song remains the same, making it easy to remember.
The progression is G, B, C, and Cm which you'll just play repeatedly. You can try using the strumming pattern D-D-U-U-D-U.
Next: 10 Easy Campfire Ukulele Songs
22. Three Little Birds by Bob Marley
Bob Marley wrote the song "Three Little Birds" in 1976 and included it on his album Exodus. With a memorable chorus, this song about overcoming adversity is said to be inspired by a Jamaican proverb: "Every little thing's gonna be all right". Many people think that lyric is the song title because of its repeated use.
It only takes three simple Bob Marley chords to play this catchy song on a ukulele.
Play it with the chords A, D, and E, which are easy to master as a beginner.
23. Ho Hey by The Lumineers
This song was the breakthrough hit for The Lumineers. It was created by Schultz and Fraites as a kiss-off to disinterested concert-goers. They wanted to incorporate shouts into the song to get the audience's attention. That goal was a success because the melody is extremely catchy.
It's a fun song to play on the ukulele because of the shouts, stomps, and chorus perfect for singing along.
The best part is that it has easy chords: C, F, Am, G.
24. What A Wonderful World by Louis Armstrong
You can imagine that people must have clung to songs about hope during times of war, just like the classic "What A Wonderful World". Bob Thiele and George David Weiss wrote this song in 1968 during the Vietnam War. The songwriters dedicated it to those who lost their loved ones and the Vietnamese children who had to start a new life in a foreign land.
This iconic song is also easy to play on the ukulele.
It may not be as simple as other ukulele songs with only three to four chords, but it can help you practice some new chords that are still easy to play.
You will need to use seven chords: C, Em, F, E7, Am, G7, A7.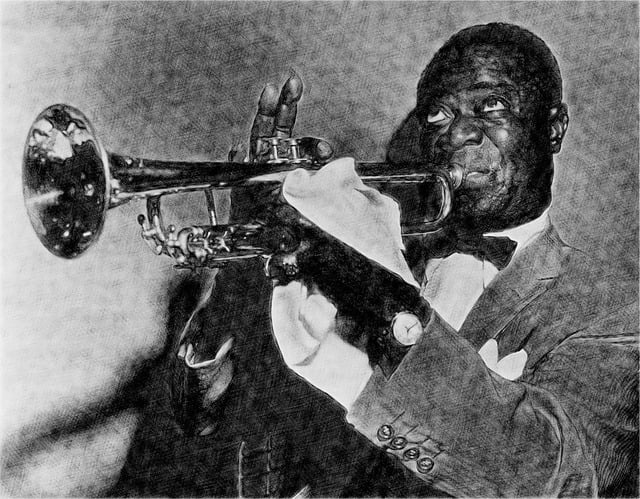 Next: 10 Easy Ukulele Country Songs
25. Let It Be by The Beatles
"Let It Be" is one of The Beatles' many iconic ballads. It was written by Paul McCartney when he was inspired by his mother, Mary, who died when he was young. Overall, it's an upbeat song loved by many.
It uses some of the most common combinations of chords in music, making it a great song to play for beginners. It's also an excellent song to choose if you want to play something many people will recognize.
You can play the songs with only four Beatles chords: C, G, Am, F.
It has different chord progressions throughout the intro, verse, and chorus. Make sure to memorize them.
If you want to see more, click here to see our 10 Easy Beatles Songs on Ukulele.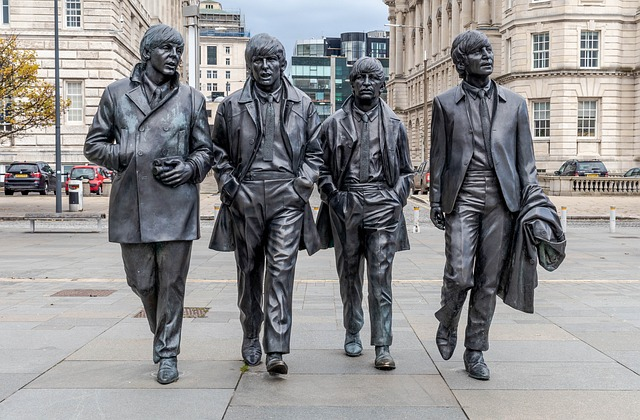 26. I Walk The Line by Johnny Cash
"I Walk the Line" is a classic American country song written by Johnny Cash. It was recorded in 1956 as a promise to remain faithful to his first wife, Vivian, while he was on the road. The rhythm in the song is based on the "freight train" rhythm that you'll often hear on other Johnny Cash songs.
The song is straightforward, with only three chords needed to play it: C, F, and G.
After learning these, you're already on the path to mastering the most popular chord progression in modern music.
27. Hotel California by the Eagles
Released in 1977, "Hotel California" is considered the band's most famous song. The lyrics are about the Eagle's interpretation of the high life in Los Angeles.
This classic won the Grammy Award for Record of the Year. Its long guitar coda was also voted as the best guitar solo of all time in 1998 by the readers of Guitarist magazine.
To play this easy ukulele song, you'll only need to learn seven basic chords: Am, E7, G, D, F, C, and Dm.
The chord pattern is different between the verses and chorus, so memorize its order when you play them. For beginners, just play it with a simple rhythm following the song's beat.
28. You Are My Sunshine by Johnny Cash
The song has maintained popularity since Jimmie Davis and Charles Mitchell first wrote it in 1939. It has been covered countless times and is considered one of the most popular ukulele songs in American music.
Johnny Cash's version of "You Are My Sunshine" is one of the most popular interpretations of the song. For a folk song that has been adapted into multiple children's games and musical anthologies, his take on the song sounds deep and dark.
You can easily play this song on the ukulele with only four chords: C, C7, F, G7.
29. Amazing Grace
"Amazing Grace" is a Christian hymn written by English poet and clergyman John Newton in 1779. It is a very popular hymn, particularly in the United States, that it's already considered an icon in American culture.
You'll often hear this song in various secular settings and even marketing campaigns.
It takes only three chords to play the song: C, F, G7. If you want to challenge yourself more, it's a great beginner song for when you're learning how to fingerpick.
This song works well at a slow pace, so there's no need to rush in playing.
Next: Top 11 Worship Songs on Ukulele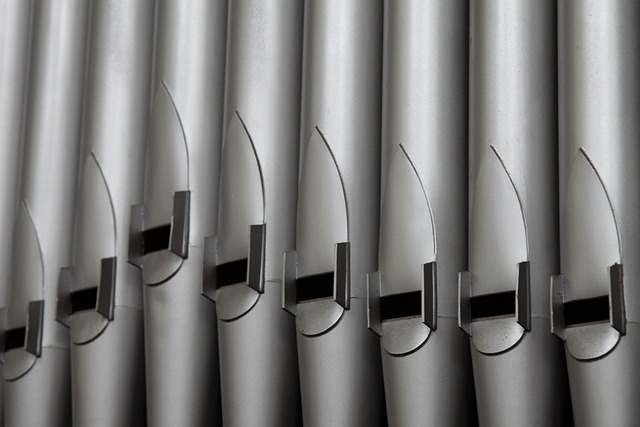 30. Otherside by Red Hot Chili Peppers
Red Hot Chili Peppers recorded "Otherside" for their album Californication. It was inspired by the death of former band member Hillel Slovak, who died in 1988 from a heroin overdose. This song is a metaphor for addicts' struggles when they try to get back to everyday life.
It's easy to play on the ukulele. Just the five chords of Am, F, C, G, and Em can already make you play the entire song.
31. Down on the Corner by Creedence Clearwater Revival
"Down on the Corner" is a track off of Creedence Clearwater Revival's fourth studio album. This song is about a fictional band called Willy and the Poor Boys, who play on street corners. They cheer people up in exchange for nickels.
This classic song has simple ukulele chords. The best thing is that the original recording uses those same easy chords.
This hit from the 60s only contains the chords C, F, and G7. It's a perfect song for beginners who are just starting to learn the ukulele.
32. Stand By Me by Ben E. King
This song is inspired by the spiritual hymn "Lord Stand By Me". It was initially performed by American singer-songwriter Ben E. King in 1961. More than 400 other versions have been made since.
This simple, classic tune is a breeze to play on the ukulele. It's fun to sing along while you strum, and there are only four chords in it. None of them is difficult at all.
The chords are just these four chords – C, Am, F, and G7. The pattern is the same throughout the song.
Next: 5 Ukulele Christmas Songs
33. Mad World by Gary Jules
"Mad World" is a song by the British band Tears for Fears, released in 1982. In 2001, Michael Andrews and Gary Jules covered the song for the soundtrack of the film Donnie Darko.
This song has just four chords that aren't too tough to play: G, D, A, and Em. It is mainly repetitive, with only three parts to learn: the verse, the pre-chorus, and the chorus.
Only the verse needs all four chords. The pre-chorus only uses three chords, while the chorus uses two.
Conclusion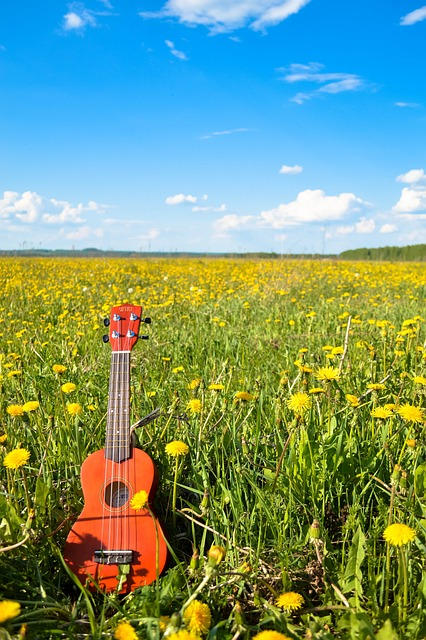 You'll learn easy ukulele songs faster if you practice as much as possible. And there's no better place to start than with songs you already like. The musical genre doesn't matter. Just start with songs you think you will enjoy learning.
If you're still looking for ideas in the future, come back to this article of easy ukulele songs for beginners. This list is vast, and there's something here for everyone.
Michaela Jyra Melo is a freelance writer, music obsessive, and professional content creator with a passion for sharing her experiences and knowledge with the world. Michaela is a music lover first and foremost. She's passionate about new music and artists, but she also loves to dig into musical instruments and equipment. Michael studies communication at the University of the Philippines. When she's not writing or listening to new music, she can be found reading on her Kindle or traveling somewhere new with friends.